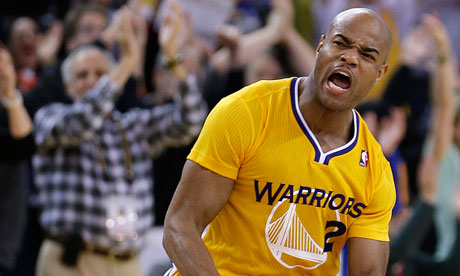 (Photo: Ben Margot/AP)
For all you east coast basketball fans that did not stay up last night, there were two exciting basketball games that were going on between the Los Angeles Lakers and the Portland Trailblazers and the San Antonio Spurs taking on the Golden State Warriors.
Let's just say both California teams won in grind it out fashion. In the Lakers vs. Trailblazers game, Kobe Bryant went to work against Portland and scored 40 points. That was vintage Kobe but not to be over looked is Trailblazers outstanding rookie point guard Damian Lillard who scored his 1000th point in young career. The Lakers would go on to win 111-107.
Now the last game of the night went into overtime but the Warriors came out victorious defeating the Spurs 107-101. Leading the way in scoring for the Warriors was Jarrett Jack who had 30 points off the bench; the last Warriors player to do that was Donyell Marshall back in the late 90's. The playoff push is now on, its time to see if the Warriors can hold their playoff position and if the Lakers can find their way into the playoffs.
Follow me on twitter @Jovan10 for Sixers, College Basketball, NFL, MLB, and all sports updates.