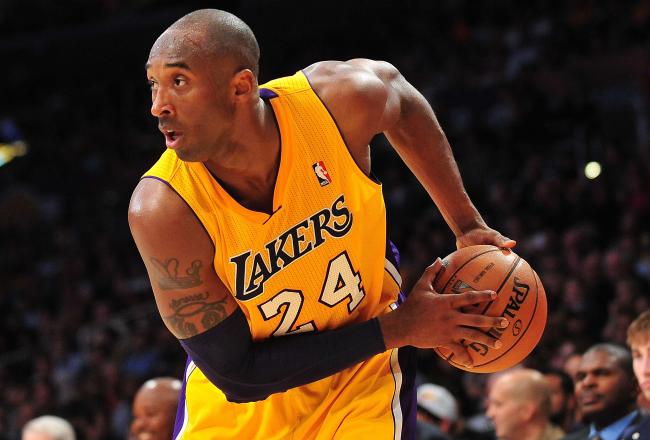 (Photo: Gary A. Vasquez-US PRESSWIRE)
Many people think that Kobe Bryant is finished and that the torch should be passed to Lebron James. Not so fast my friend as ESPN's College Football Gameday analyst Lee Corso would say. If you think Kobe Bryant's career is done then you must not have been watching basketball this season.
This season with Dwight Howard, Kobe Bryant had to change the way he played the game for the betterment of the team. So far that change has gone great for Kobe and the Lakers. For the Lakers, he has been more of a passer than a scorer. On January 29th versus the New Orleans Hornets, Kobe Bryant had 14 points and 11 assists. When was the last time you saw Kobe post those kinds of numbers in a game? Lebron sure doesn't do that on a nightly basis. Instead unlike Kobe, Lebron James has become more of a scorer's mentality than anything else.
Here is another stat that will have you scratching your head. On February 1st against the Minnesota Timberwolves, Bryant had 17 points, 12 rebounds, and 8 assists. He was two assists away from a triple-double.
If you are a Lakers fan or a basketball enthusiast do you like aggressive Kobe or passive Kobe? I like passive Kobe and here is why. The way Kobe has been playing it seems like the Lakers are playing more together as a team and not as individuals. In the Lakers last seven games they have won six of them. Coincidence, I think not. The new style that Kobe is playing is actually making his team better and could definitely put him in the running for the MVP this season.
And for people that think Kobe is washed up just look at all his accolades. He was All-NBA First Team and All-Defensive Second Team last season. Then in 2011, he was All-NBA First Team, All-Defensive First Team, and All-Star MVP.
Finally, don't forget Kobe is only five years removed from a MVP title. So before you want to declare Lebron James the best in the game, the "Black Mamba" still has something to say about that.
Follow me on twitter @Jovan10 for Sixers, College Basketball, NFL, MLB, and all sports updates.